The Pileated Woodpecker. Everbody's favourite Woodpecker!
This of course is Canada's largest woodpecker measuring between 16 and 19 inches in length. Usually heard before seen. Either drumming away at a tree where it excavates its large trademark rectangular hole in search of ants, beetle larvae and other insects. Else reminiscent of Woody Woodpecker the cartoon character loudly calling its laugh-like Cuk-Cuk-Cuk-Cuk for all to hear.
This months sighting by @kellysteele . With its bright red crest contrasting against its white neck and black body and with the Autumn colours of the forest serving as a backdrop, this made for October's sighting of the month. Pictured here is the male with the identifying red cheek stripe.
Click on photo to see full observation details including when and where in the park this bird was seen.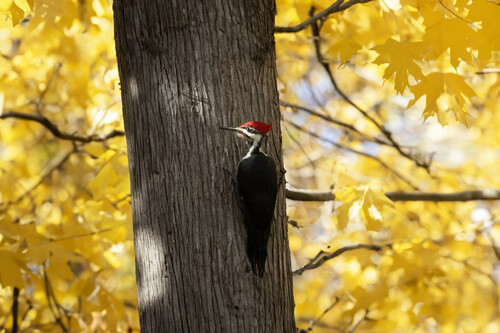 Dryocopus pileatus - male , photo credit @kellysteele

---
Close by @kellysteele also observed the female Pileated Woodpecker of the pair (No red cheek stripe).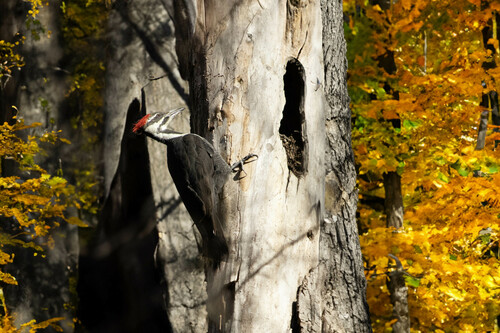 Dryocopus pileatus - female , photo credit @kellysteele
Please check back for next months sighting!
Rouge National Urban Park -Birds (members) @juliaphillips @bam_lee @brithikesontario @galloots13 @kkachurina @marymakc @firebreathingcookie @allthingsnature @gary-james @tswabey @marlene-d @
הועלה ב-
נובמבר 21, 2023 12:43 אחה"צ
על ידי

pinemartyn