The Patent Leather Beetle (Odontotaenius disjunctus), or Bess Beetle, or Horned Passalus Beetle on iNaturalist - it is known by many names - is a large, lovely, and distinctive beetle that is common in rotting wood.
Here are just some of the reasons they are awesome:
They are big, beautiful, common, and harmless. As the father of two daughters who have repeatedly found and handled them, I can attest to their harmless good nature. Kid-tested and father-approved!
They live in family groups and protect their families from intruders. This is pretty rare in insects. The parents and even older siblings stick together and tend to the young. Remember to put them back where you found them!
They talk! I believe this species still has the distinction of the only beetle with an audio file on the MBP site (link below)! The species is known to create at least 14 distinct sounds, presumed to have different meanings such as warning signals. With what we've learned about other living things' languages in recent years, I recommend opening our minds to the distinct possibility that everything is more complex and awesome than most people assume.
Like many beetles, Patent Leather Beetles are part of the world's recycling crew, the decomposers. Like earthworms, they are part of what keeps healthy life cycles turning in our forests.
The eat poop. Wait, it's cool. They're an amazing example of the interplay between species and their symbiont microorganisms. Without the microorganisms to digest tough plant fibers, this (and many other species) can't survive. They will literally die of starvation if not allowed to first eat the microorganisms left, intentionally and consistently, by their parents. Look no further for awesome examples of symbiosis and the critical importance of gut biomes. Most animals, very much including us, are also habitat and hosts to welcome guests needed for survival.
It's all connected, man...
We still need two county records for this species: Garrett and Wicomico Counties.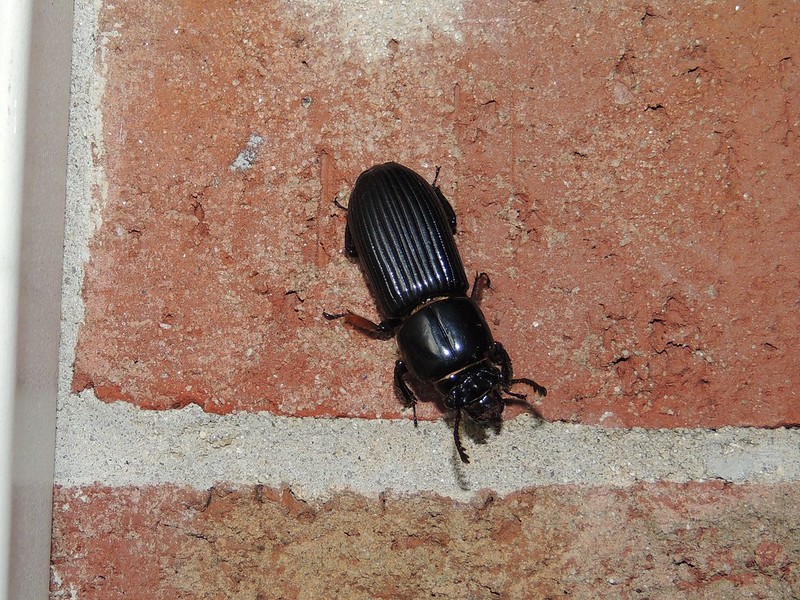 Photo by Scott Housten in Dorchester Co., Maryland. More at MBP, including audio of one protesting our affections.
https://www.marylandbiodiversity.com/view/9086
Bill